Description:
SalatTime computes and displays (Today pluggin) the Salat (prayer) times for muslims. It also generates months and years Salat time-tables.

The software SalatTime is a Windows Mobile 6 program. It is optimised for QVGA and VGA screens.
It contains two parts, one is a Today Item, i.e. it appears on Today home screen and the other part is a WM classical program.
It computes prayer time and generates monthly calendars for a given town.
Computations are done thanks to the rules described here.

For the installation, simply run the SalatTimeF.cab file on the Pocket PC. It will install the software SalatTime.exe and the Today plugin. To activate this latter, go to Settings, then Today, then check SalatTime, click OK to exit.

To update a priviously installed version of SalatTime on your Pocket PC, you must first uncheck the Today elements SalatTime from the Today screen options in order to unload the DLL.

When the installation is done, you have to check the Today elements SalatTime from the Today screen options to activate the Today display.

Screenshots: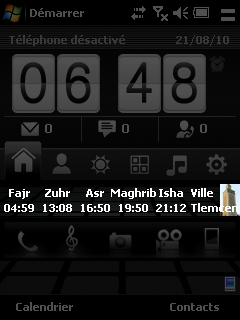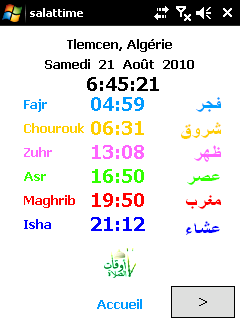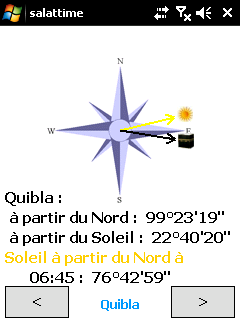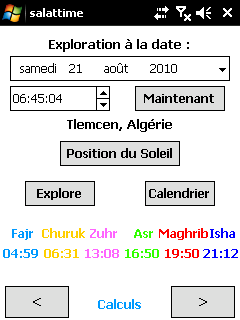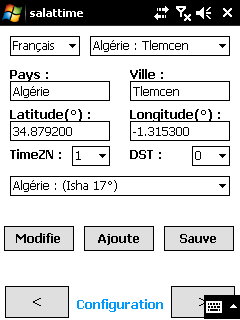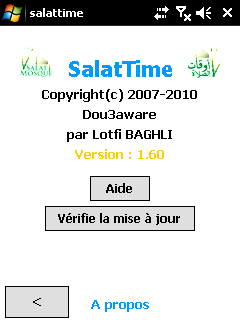 It is free; however... this is a doua3ware, which means, if you are Muslim, thank you for praying for my forgiveness.
Please click here to read help file using the program SalatTime.